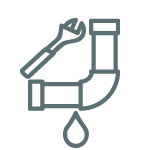 Dealing with sudden and accidental damage caused by water can be a nightmare for homeowners and commercial property owners alike. Whether it's a burst pipe, a sewer line backup, or natural disasters that lead to flooding, the effects of water damage can be devastating. All it takes is a few inches of water to create a serious threat to your home or office. The harmful effects of water damage can be greatly reduced by timely and effective manner access to water damage restoration services from Roto-Rooter of Mobile, AL. Our water cleanup experts are available 24 hours a day, 365 days a year, when you need service the most, to quickly repair your water damage problem, provide Mold Remediation Services in Alabama, and prevent further damage.
Water Restoration Company You Can Trust
When it comes to water damage, it's not just about removing the visible water; it's also about ensuring that the affected structural materials are thoroughly cleaned and dried to prevent further issues like mold growth. Our experts are well-versed not only in water removal but also in carpet cleaning and maintaining indoor air quality. We adhere to the highest standards set by the Indoor Air Quality Association, ensuring that your space is safe and healthy.
Our water restoration experts are well-trained and knowledgeable in the area of water damage restoration. Our trained water cleanup professionals receive the Institute of Inspection, Cleaning and Restoration Certification (IICRC) and perform water restoration services in compliance with standards for professional water damage restoration. We are the leader in Alabama Leak Detection services. Roto-Rooter's vehicles are fully equipped with state-of-the art water extraction, drying and moisture testing equipment to handle everything including:
Water Damage Cleanup
Sewer Damage Cleanup
Sanitation and deodorizing
Drying of contents and structure
Water Leak Repair
Residential Water Damage Restoration Services in Mobile, AL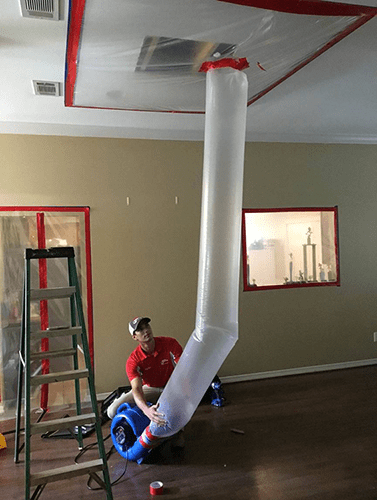 Living and working on the Gulf Coast, our Roto-Rooter professionals have seen the devastating effects water damage can have on your home and family. We understand the importance of prompt response times and being available around the clock to help get your house back to normal as quickly as possible. Roto-Rooter's water restoration professionals will provide a free on-site evaluation and work directly with your insurance company to make the water damage repair experience as hassle-free as possible.
While some disasters can't be predicted, if you live in an area prone to natural disasters, or have had plumbing-related flood damage in the past, there are a few things you can do to protect your home.
Closely monitor any areas that have had water damage in the past.
Keep the number of your local Roto-Rooter on hand at all times! Save the number to your local Roto-Rooter plumbing expert and post it near the areas most susceptible to water damage.
Inspect pipes, water shutoffs, appliance connections and hoses regularly for potential leaks.
In areas prone to flood damage, install flood alarms for help with early detection and to prevent damage.
Commercial Water Damage Repair Services in Mobile, AL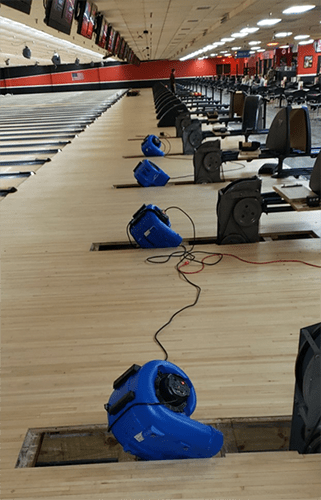 Commercial water problems can not only disrupt your business but also negatively affect your customers and employees, causing a loss of revenue and profits. Water problems can occur at any time of the day or night—usually when it's least convenient. Our Roto-Rooter water restoration teams are available 24 hours a day, 365 days a year to take control of your water problem and get your business back to business as quickly as possible.
We recognize the urgency of immediate water removal to minimize downtime and financial impact. Regardless of the magnitude of your water emergency, Roto-Rooter plumbers in Mobile, AL possess the expertise to quickly evaluate and respond to water damage restoration needs for businesses across all sectors, including:
Property Management and Landlords
Food service
Retail
Hotel and Motel
Schools and Universities
Healthcare
The Importance of a Knowledgeable Insurance Agent
Having a knowledgeable agent on your side can make all the difference when dealing with water damage. Our water restoration experts can work alongside your homeowners' insurance or your insurance agent to ensure that you receive the coverage you deserve. We are committed to providing efficient water and flood damage restoration services while working closely with your insurance company to ensure a hassle-free process.
Water Damage Restoration Process
Water issues can pose a significant threat to homes or offices, especially in commercial properties where they can disrupt business operations and result in revenue losses. Our 24/7 availability for water damage restoration in Mobile, AL ensures that our water restoration teams can address the situation promptly. Our comprehensive restoration process includes the following steps:
Emergency Response: Our team responds immediately to your call, preventing further damage and starting the restoration process promptly.
Assessment and Inspection: We thoroughly assess the extent of the damage, identify safety hazards, and develop a customized restoration plan.
Water Extraction: Using advanced equipment, we remove excess water to prevent further issues.
Drying and Dehumidification: We employ professional-grade techniques to eliminate moisture from the air and affected surfaces.
Sanitation and Deodorizing: Our team ensures a clean and fresh environment by sanitizing and deodorizing the affected areas.
Mold Remediation Services: Addressing mold growth is essential, and we provide effective mold remediation to remove existing mold and prevent future growth.
Repairs and Restoration: Once the drying process is complete, we proceed with the necessary repairs and restoration work.
Roto-Rooter of Mobile, AL, is committed to providing efficient water and flood damage restoration services while working closely with your insurance company to ensure a hassle-free process.
Our Water Damage Restoration Crews Provide Emergency Restoration Services for:
Sewer line backups
Overflowing sinks, toilets and tubs
Burst or leaking pipes
Sump pump, water heater failures, dishwasher, washing machine and refrigerator line failures
Sprinkler system leaks
Basement, crawl space and laundry room floods
Foundation seepage and groundwater leaks
Roof leaks
Backflow problems
Weather and storm related flooding
Pool and spa leaks